Zaol Doctor's Order
WOMEN LINE
Woman hair loss who's different from man!
Let's take care of it with Zaol Synergy Booster Women
& Scalp Scaling Shampoo Women, who studied Women hair loss!
SHOP BUY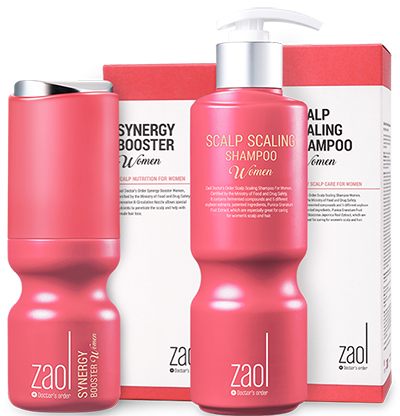 The reason of release:
Nutritious ingredients.
Guaranteed results.
The reason for hair loss of women is different from men,
so different element for different cause!
Especially lacking feminine hormone affects enormously to hair loss
so women need hair loss maintenance for women!
The difference with original product:
It is helpful to relieve the symptoms of women hair loss to contain the extracts from pomegranate, yam, fleeceflower rich in Estrogen which is good for women. Containing the extracts made with fermented 5 kinds of soy and kudzu full of isoflavone. Containing natural complex extracts from persimon, leaf of camellia, algaroba that are helpful to scalp and hair protection. Essential element protein making up scalp and hair! Containing pea peptide patented that is pure vegetable material extracted from pea and other active ingredient!
Women line that is specialized
for women hair loss.
Synergy Booster Women & Scalp Scaling Shampoo Women.
Zaol Doctor's Order
Women Line
Women line that is specialized
for women hair loss
Product : Zaol Doctor's Order Synergy Booster Women
& Scalp Scaling Shampoo Women
Volume : 25ml / 0.8 fl. oz.
Size : 50 x 50 x 145mm (Box) / 57 x 57 x 195mm (Box)
Expiry Date : 2 years before opening • 1 year after opening
R&D : ZAOL Germany GmbH, Manufacturer : ZAOL Co,. Ltd