Zaol Doctor's Order
SYNERGY BOOSTER
Just as we care for our skin, we must also nourish the only scalp we have.
After all, healthy hair begins with a healthy scalp. One tap of this patented cross-shaped spray bottle, directly onto your scalp, is enough to send a wealth of nutrients penetrating deeply into every follicle.

The result? Hair loss prevention and thicker hair for years to come.
SHOP BUY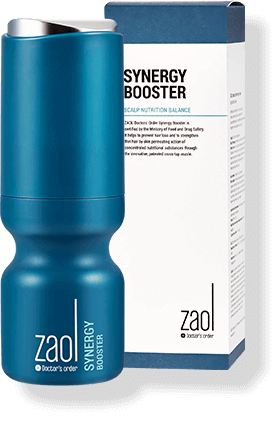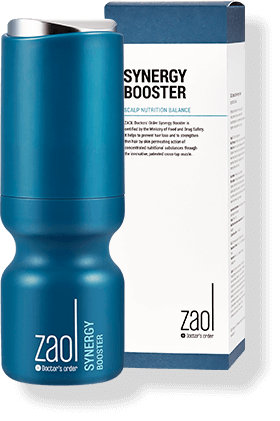 Balanced Nutrition for the Scalp

Cut through the noise of conflicting information.
Focus on TRUE scalp care, backed by science.

Give your scalp the royal treatment,
with the only scalp product you'll ever need again.
One daily tap is all it takes to enjoy endless results for years to come.

*Zaol Doctor's Order is a clinically-proven product,
backed by scientific evidence in hair loss prevention and hair
trengthening.

No results from your "anti-hair loss shampoo?"
There's a reason behind your disappointment.
You've overlooked the most crucial factor
– the nutrition of your scalp!

Unfortunately, shampoo can only achieve so much. "Anti-hair loss" shampoos do little more than cleanse the scalp, doing nothing to actively prevent hair loss. If you want to stop hair loss in its tracks and truly strengthen your hair, nourishing the scalp from the inside out is key

– something only SYNERGY BOOSTER
can help you achieve.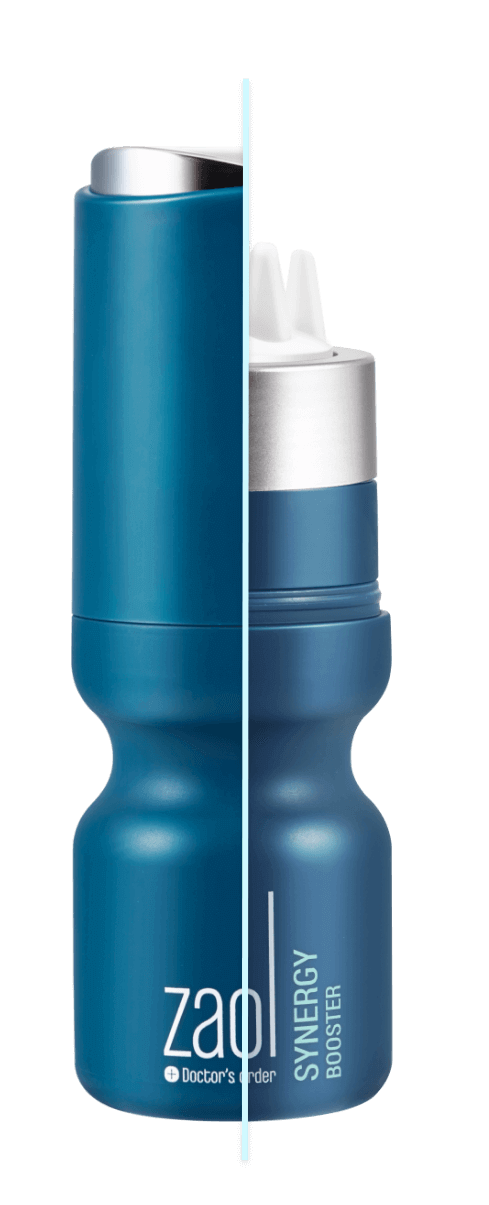 Reimagine your Scalp Routine
Synergy Booster is rewriting ALL the rules!
This simple-to-use product is ideal for daily use – an easy addition to your daily personal care regimen. >While other options on the market are traditional "sprays," or painful, invasive medical procedures, SYNERGY BOOSTER is different.
Unlike most treatments that can result in high long-term costs and complicated applications,
SYNERGY BOOSTER has been uniquely formulated for simple daily use.
A one-of-a-kind nozzle allows for straight forward application, high performance,
and deep penetration of the hair follicles.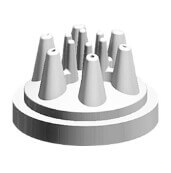 B-CIRCULATION NOZZLE
Zaol Doctor's Order has spent years developing the perfect B-Circulation Nozzle, expertly engineered to maximize penetration of nutrition into the scalp. This future-forward design is gentle yet tough, where one tap is all it takes to deliver a wealth of nutrition through a gentle massaging effect.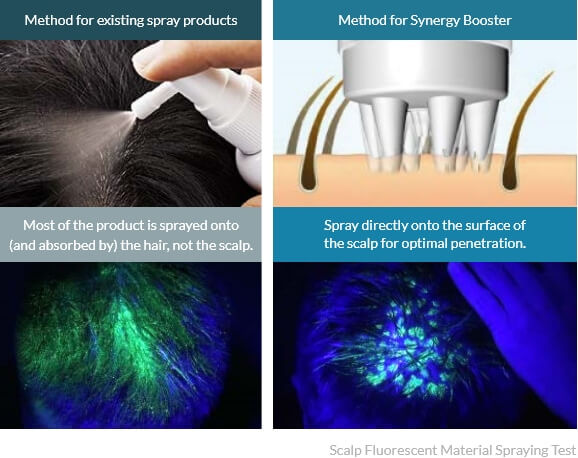 01 : Unfortunately, you are wasting your money on most store-bought products.
These will never work as they're supposed to. Your scalp can only absorb nutrients if the product is sprayed directly onto the scalp, not the hair. SYNERGY BOOSTER'S uniquely-designed nozzle guarantees deep scalp penetration, for real results.
Existing products on the market demand application through a traditional spraying method.
This sees 40-50% of the liquid being absorbed by the HAIR, and not the SCALP. This defeats the purpose entirely. To solve this problem, SYNERGY BOOSTER has been engineered to feature a cross tap nozzle. This allows the liquid to be sprayed directly onto the scalp, ensuring maximum absorption of critical hair-loss-preventing nutrients.
WATCH THIS VIDEO TO SEE THE RESULTS FOR YOURSELF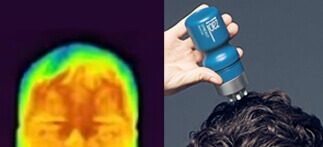 Thermal camera analysis showing Synergy Booster's proven efficacy of boosting scalp blood circulation for optimal absorption of ingredients.
02 : How can you ensure fast, maximum absorption?This is only possible through a product that is applied directly to the scalp, with an additional massaging effect to guarantee optimal absorption.

Hair problems are, often, not HAIR problems at all – they're SCALP problems. When blood circulation to the scalp slows down, the surface hardens. This, unfortunately, blocks nutrients out – making it much harder for them >to penetrate the scalp. A gentle massage revitalizes the scalp and follicles, opening them up again to maximize the chances of full absorption.
P.S. Do you know what's in
your haircare products?
Zaol Doctor's Order's SYNERGY BOOSTER features this patented element, Kopexil (Diaminopyrimidine Oxide an FDA-approved ingredient in lasting hair restoration), Copper Peptide, Collagen, Vitamin C and Biotin which effectively supplies the nutrients required for hair growth through the vasodilation of the blood vessels surrounding the follicles. These ingredients revitalize and open them up for deep penetration. Zaol SYNERGY BOOSTER - it's key for anyone who wants to prevent hair loss and promote real hair growth for years to come.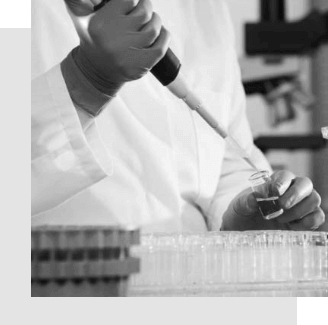 BONUS: Herbal Extracts to Boost Scalp Condition even Further!
Copper Peptide. Collagen. Vitamin C. Biotin. Zinc Pyrithione. Dexpanthenol. Nicotinamide. Wild-Cultivated Ginseng. Yeast. Heartleaf. Beefsteak Mint. Just a few of the incredible "hero" ingredients found in SYNERGY BOOSTER.
Alone, these products are great. Together, they hold the power to deeply penetrate every follicle found on the dermis of the scalp – delivering the results you've been waiting to see for so long.

SYNERGY BOOSTER.
Free from Parabens, Silicon,
and Artificial Coloring.
Our entire product range is free from anything that could put your health at risk. At the same time, we care about preserving our natural environment and the only planet we have to call home.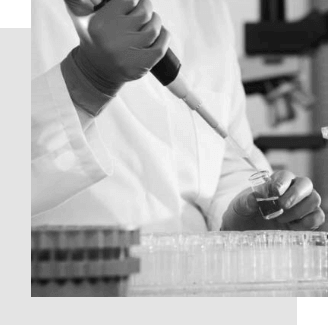 WARNING: Continued use is key to results!
One use isn't enough to guarantee improved hair growth and scalp health.
Did you know that hair growth cycles last 3 months?
Make sure you use Zaol's SYNERGY BOOSTER diligently to witness
incredible results after every 3-month hair regrowth cycle.
"Patience is the key to successful hair-loss treatment! Place your trust in Zaol, and keep persevering. Don't give up, and the results will keep on surprising you for years to come!" – Founder
Hair Regrowth Cycles + Shedding

There are 3 phases of hair regrowth cycles.

Continuous treatment (3+ months) is critical if you want to see results. During your hair's "resting phase," the hair does not grow, but rather, it stays attached to the follicle. This is when "Shedding" occurs, seeing dead hair fall from the follicle owing to dilatation and scalp cell relaxation. It's unfortunate that so many people give up on their treatment during the "Shedding" period, as they are under the false impression that the product is not working. This couldn't be further from the truth. If you want to experience true, lasting results, PATIENCE is KEY.

*Shedding is normal. Healthy hair grows back once the scalp's condition improves.
HOW TO USE
Use more than twice a day for best results
Step 1
Open the cap and turn the top to the right until you hear a 'click'. (Turn the cap to the left and lock when not in use.)

Step 2
Fluid starts to come out when you tap on the palm of your hand (approximately 10~20 times) on first use

Step 3
Apply on dry scalp by tapping 10 times all over the scalp, close the cap and continue tapping for massaging effect - Zaol Doctor's Order has high penetrating power as nutrient fluid gets sprayed directly on the scalp and increases absorption of nutrients with massage function through scalp stimulation. * Control the number of taps if you feel amount of fluid is excessive (less than 10 times). Close the cap then continue to massage (the sponge soaked with the fluid will be enough to cover the whole scalp

Step 4
Allow to air dry without washing once booster fluid gets completely absorbed into the scalp.

Tip *
Make sure to use at night because cell division is most active from 10pm to 2am. * Use frequently (more than twice a day) even when you don't shampoo.
Synergy booster,
maximize results
by applying according to your scalp type!

Scalp pores are bigger than skin pores, it only takes 3 to 5 minutes for the booster to be absorbed into the scalp It is even more effective if you use booster before shampooing

Oily scalp
Cover the scalp with synergy booster and leave for 30 mins ~ 1 hour before washing Apply at least twice a day to a clean, dry scalp (Use during the daytime and at night, use at nighttime is crucial)

Normal Scalp
Apply at least twice a day to a clean, dry scalp (Use during the daytime and at night, use at nighttime is crucial)

Dry scalp
Cover the scalp with synergy booster and leave for 30 mins ~ 1 hour before washing The scalp is deprived nutrition and moisturisation, so apply at least three times a day to a dry scalp (Use during the daytime and at night, use at nighttime is crucial)